The Labor Department reported on Friday that nonfarm payrolls rose by a seasonally adjusted 339,000 in May, well above the 190,000 expected by economists polled by The Wall Street Journal and marking the 29th straight month. increase. While the hiring market was hot, other indicators in the report, including rising unemployment and slowing wage growth, made the signal for a rate hike difficult to judge.
The report showed that the unemployment rate rose to 3.7% in May, beating expectations for 3.5%. The unemployment rate was the highest since October 2022, but remained near the lowest level since 1969.
The increase in the unemployment rate was largely due to a sharp drop of 369,000 in the number of self-employed persons. That was part of a 310,000 decline in employment in the household survey, which is used to calculate the unemployment rate and is generally considered more volatile than the agency survey used for overall employment.
Meanwhile, the growth in headline employment figures was driven by gains in service sector sectors, where staffing levels appear to remain below pre-Covid 19 norms. Leisure and hospitality added 48,000 jobs, while health care added 52,400. Employment in goods-producing sectors continued to hold steady: manufacturing employment fell by 2,000, while construction rose by 25,000.
Average hourly earnings, a key inflation gauge, rose 0.3% this month, in line with expectations. On an annualized basis, wages rose 4.3%, missing expectations for a 0.1 percentage point increase. The average workweek fell by 0.1 hour to 34.3 hours.
One message of the report is that banking problems sparked by the collapse of Silicon Valley Bank in March still don't appear to have had much of an impact on the job market. While the decline in the number of self-employed people may indicate that it is more difficult for people to obtain loans to start their businesses, established companies do not appear to be laying off workers.
After the jobs report, the market forecasted a slight increase in the probability of a rate hike in June. Traders' bets on a 25 basis point rate hike briefly rose to 38 percent before falling back below 30 percent by press time, according to CME Group data.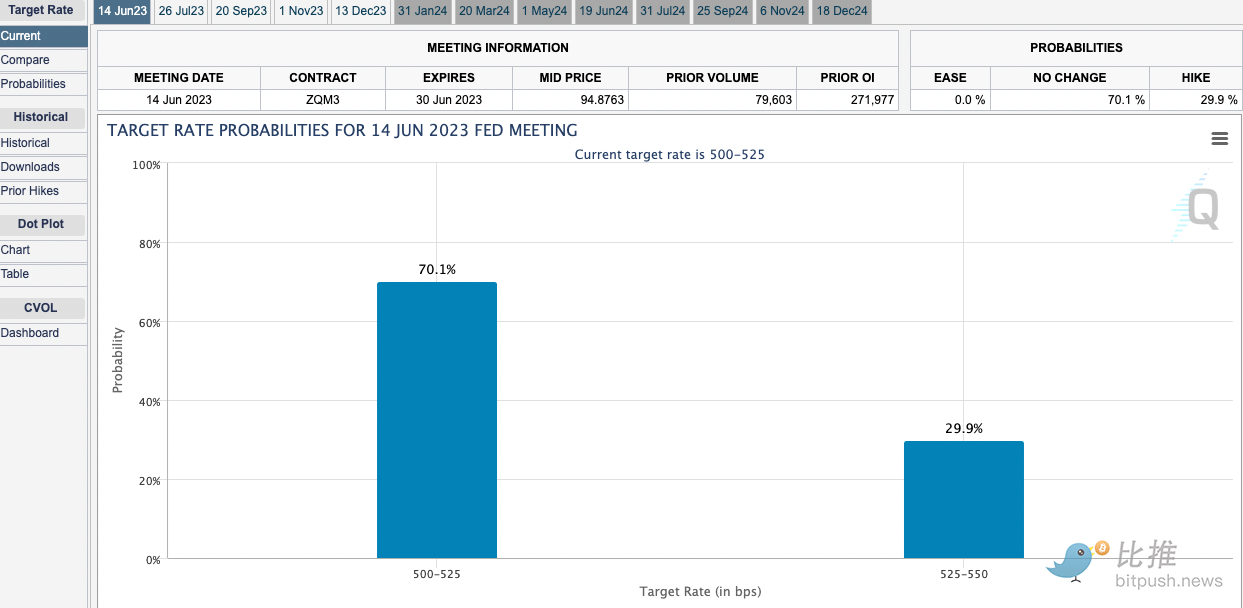 Stand still in June
In recent weeks, Fed policymakers have struggled to keep their options open, with some arguing that inflation remains the main risk and others arguing that a recession is imminent.
Some Fed officials have indicated or suggested that they may keep rates unchanged at their June 13-14 meeting. Bitwitter previously reported that Philadelphia Fed President Patrick T. Harker said this week that he "absolutely supports no rate hike being considered at this meeting."
Federal Reserve Governor Philip Jefferson, who has been nominated as vice chairman, said on May 31 that the central bank tends to keep interest rates steady at its June 13-14 meeting to give policymakers more time to assess the economic outlook.
Nationwide chief economist Kathy Bostjancic said in her report that the Fed appears "inclined to skip tightening policy in June, but may resume it in July. Today's strong employment data supports this action."
Also, until the report is out, some forecasters believe that the May data may be affected by temporary factors.
According to the Wall Street Journal, Goldman Sachs economists believe that because of the tight labor market, many young people are still in school, and companies that increase employment in the summer will struggle to recruit people. Economists at Morgan Stanley believe factors the Labor Department uses to smooth out seasonal fluctuations will drive the decline in payrolls. The fact that the May jobs report showed such strong growth despite these hurdles suggests that the June jobs report could also be very strong.
Raise interest rates by half a basis point in July?
With concerns over the U.S. debt ceiling and risks to the banking sector receding, the central bank's focus will be squarely on still-excessive inflation and a far stronger-than-expected job market, with policymakers likely to hike rates again by July .
Former U.S. Treasury Secretary Lawrence Summers said in an interview with Bloomberg on Friday that the Fed should be open to raising interest rates by half a percentage point in July if it chooses to delay tightening credit this month.
Summers pointed out that economic forecasters have underestimated the strength of job growth for 14 months in a row and that the U.S. labor market remains hot, suggesting they are overstating the impact of monetary policy on the economy. Keeping inflation in check, that would mean a fairly weak economy sometime in 2024."