Cryptocurrency KOL "BITCOINLFG" with more than 147,000 followers on It triggered heated discussions in the crypto.
However, what is debatable is that BITCOINLFG did not provide any evidence (transaction records or wallets...) to prove that BlackRock has purchased Bitcoin.
So far, BlackRock has not officially responded to the rumors of buying Bitcoin. If true, it does mean that mainstream financial institutions have taken another important step in embracing Bitcoin. We know that the company has applied to the SEC for a Bitcoin spot ETF. Although the market generally expects a high probability of approval, the exact time is still unknown.
BlackRock CEO Larry Fink recently revealed that clients currently consulting with BlackRock are increasingly interested in digital assets. He praised cryptocurrencies as having "different value than other asset classes" in helping to diversify investment portfolios. , meaning that cryptocurrency is very international and will surpass any international currency.
Previously, there was another unconfirmed rumor about BlackRock. Cryptocurrency KOL WallStreetBulls tweeted on the 14th that BlackRock is reassessing its stance on Bitcoin and may switch to supporting alternatives such as Ripple, but this tweet also did not provide any evidence.
Bitcoin once surged
Although BlackRock's claim of buying Bitcoin has not been confirmed, coincidentally, according to Tradingview data , the price of Bitcoin (BTC) suddenly rose sharply between 5 and 8 o'clock last night, once rising sharply from around US$26,700. 2.5% to $27,409, a new high since August 30.
Since the publication time of BITCOINLFG is close to the time, it is still unclear whether there are insiders who deliberately released the news to promote the market. But back to BTC, it fluctuated and fell after hitting a high. As of the time of writing, it was trading at $26,705, an increase of 0.9% in the past 24 hours.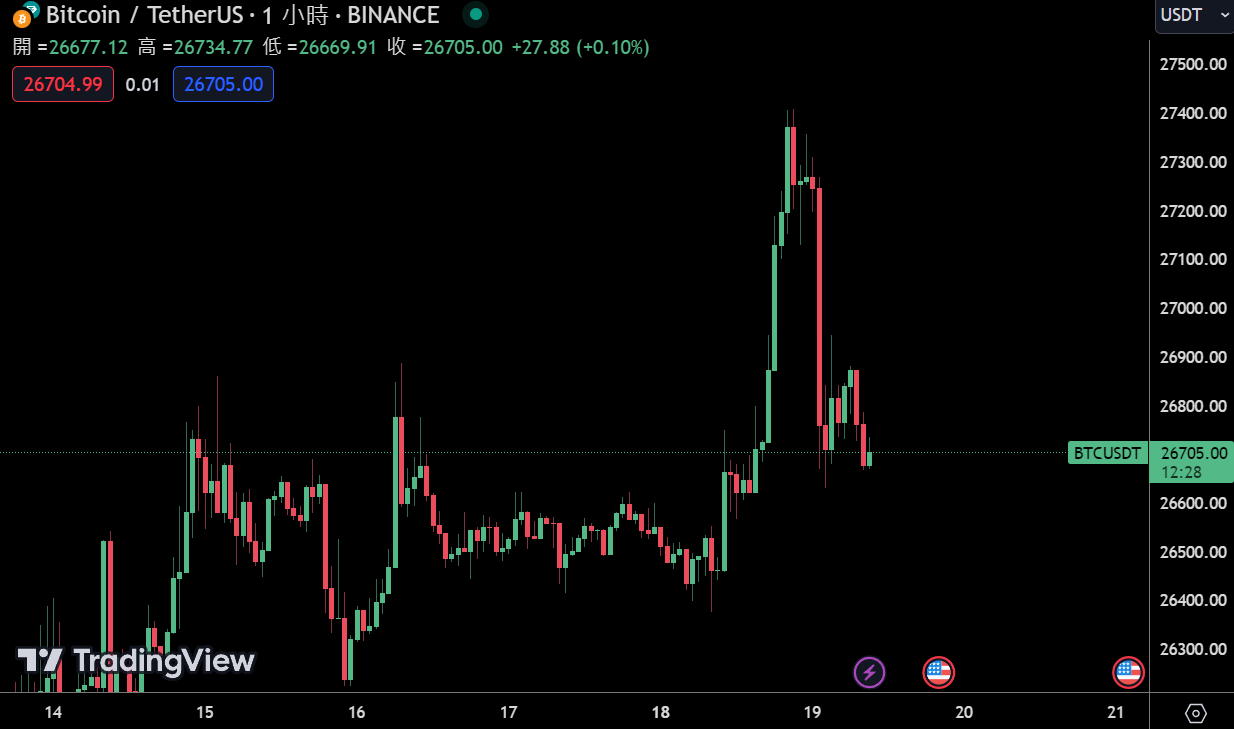 Investors are also reminded that the market is paying close attention to the latest interest rate decision to be announced by the Federal Reserve at 2 a.m. Taiwan time this Thursday. Although interest rates are expected to remain unchanged, in the face of a market with depleted liquidity, one must still be cautious about possible There are large fluctuations.
According to current data from CME Group's FedWatch , the market currently believes that the probability of raising interest rates by another 1% at the September meeting is 2%, while the probability of keeping interest rates unchanged in the 5.25%-5.5% range is as high as 98%.