Written by: Hao Fangzhou, Odaily Odaily
Editor: Mandy
Today, the Hong Kong police arrested Lin Zuo, an Internet celebrity who promotes JPEX, which may be related to the crisis of the crypto exchage JPEX. The police searched Lin Zuo's office in the Entertainment District in Central. The case is now being handed over to the Commercial Crime Bureau for follow-up.
Who is Lin Zuo? How many "unlicensed exchanges" are there in Hong Kong represented by JPEX? Why is the market strategy of the regular army in Hong Kong "unacclimated"? How many ordinary investors in Hong Kong will actually register and use trading? So, why is the pace of compliance accelerating, but the market is similar to the chaotic "crypto" atmosphere of the previous era 5 years ago? Where will Hong Kong's Web3 eventually go...
Now, let Odaily Odaily use JPEX case to unfold one by one.
"Sir, I won't bother you with our affairs in Kowloon City."
Two flowers bloom, one on each side.
On September 13, the Hong Kong Securities and Futures Commission issued an announcement, noting that a virtual asset trading platform called "JPEX" was actively promoting the platform's services and services to the Hong Kong public through social media influencers and over-the-counter virtual asset currency exchangers. product. The SFC clarified that none of the entities under the JPEX Group have been licensed by the SFC, and have not applied for a license from the SFC to operate a virtual asset trading platform in Hong Kong.
Convention and Exhibition↔Beside the overpass in Wan Chai, street advertising of JPEX and its public chain
According to Mingpao, some users pointed out that JPEX has limited the withdrawal limit to a maximum of 1,000 USDT and changed the withdrawal fee to 999 USDT, which means that retail investors can only withdraw up to 1 USDT.
Pictures circulated in the community
On the 14th, JPEX issued a response and special announcement to the statement of the Securities Regulatory Commission of the Hong Kong Special Administrative Region, stating that it had adjusted the USDT withdrawal fee, set up a task force to adjust the future development direction, and waited for further guidance from the Securities Regulatory Commission.
Although the announcement stated that if users have urgent currency withdrawal needs, they can arrange to withdraw coins as soon as possible by filling in the form. However, community users reported that after filling in the form, they were asked to submit documents such as identity documents and income certificates. Community staff recommended not to submit documents such as proof of identity and income to JPEX. Submitted information may be used for illegal purposes.
On the 15th, Bitrace stated that the JPEX address was seriously contaminated by funds. More than 190 million risky USDT flowed into a hot wallet recharge address, and the related address marked the risk type as "black and gray assets."
On the same day, Julian Cheung's agent responded that he had just noticed that Julian Cheung's portrait was being used by JPEX, and he was deeply helpless. Julian Cheung had previously received an invitation to shoot an advertisement. At that time, JPEX told them that he was registered overseas and provided proof, so they arranged for March last year. The photo was taken in May, but in May last year it was learned that JPEX was "subject to supervision by the Securities and Futures Commission" and JPEX was notified in writing that it was not allowed to use Zhang's portrait for any advertising before obtaining a license in Hong Kong. They indicated that they would reserve the right to pursue JPEX.
JPEX's Youtube channel
According to Ming Pao, since the China Securities Regulatory Commission issued a warning statement the day before yesterday, a number of Internet celebrities and over-the-counter currency exchange shops (OTC) have cut ties with JPEX. Among them, "JPEX Partner" Lin Zuo announced on his social media page that he will stop promoting any The OTC of the unlicensed exchange in Hong Kong has also suspended operations. He described that he also suffered heavy losses and "wasn't feeling better." Several Internet celebrities who have promoted JPEX include "Master Coin" who was arrested for throwing money in Sham Shui Po in 2018. Huang Chengjie and others have removed JPEX-related videos from social platforms and stated on Instagram that in order to comply with regulations and the requirements of the Securities and Futures Commission, they will not publicly promote or mention any exchanges that have not applied for a license in Hong Kong.
In August, at a large exhibition, Lin Zuozheng gave a speech on the topic of cryptocurrency investment.
On the 16th, the Commissioner of Police of the Hong Kong Special Administrative Region, Siu Chak-yi, responded to the JPEX fraud and Cyberport data leakage case. He stated that the police received a referral from the Securities and Futures Commission the day before yesterday. Because it may involve fraud elements, it is now handled by the commercial The Crime Investigation Bureau followed up and received reports from 83 people as of 3 pm yesterday, involving approximately HK$34 million. As for the Cyberport leak case, Xiao Zeyi said that he received a report from Cyberport in August and has actively maintained communication with Cyberport in the past month. The relevant cases are still under investigation.
Regarding the issue of JPEX, Hong Kong Wen Wei Po commented that JPEX was widely publicized and attracted a large number of investors, but the China Securities Regulatory Commission did not intervene early and was questioned as one of the reasons for the geometric increase in the number of victims.
In fact, JPEX is far from the only one that is "overwhelmingly publicized".
Getting on the bus entering the port from Shenzhen Bay, the distant view outside the window is the "Liyue Port"-like merchant ships loaded with containers docking and setting off, and the close-up view is the "CSOP Bitcoin/Ethereum Futures ETF" billboard that flashes by from time to time. All the way from reality to fiction, it hints at the changes in the theme of "International Financial Center".
When we arrived in Tsim Sha Tsui, several crypto education academies were located in the "Golden Corner and Silver Edge" of the neighborhood. On the scrolling screen were the logos of Bitcoin and Ethereum and the handsome PR photos of several "investment mentors" of the week.
Arriving at the "Hong Kong Computer and Communication Festival 2023" at the Convention and Exhibition Center, a large number of local Web3 teams brought European and Asian models to the battle, cheering people on, engaging in interactive games, and giving away gifts (from plush dolls to USDT).
Photographers, old and young, flock to the "beauty economy"
The Hong Kong media writing style with the stereotype of "exaggeration, yin and yang, pun, rhyme" has also been transmitted to the promotional copy of Web3 companies. Words such as "guaranteed, highest, sure to win, guaranteed profit..." appear frequently (which makes the mainland adhere to advertising laws. Media practitioners speak at first glance).
Hong Kong, which entered the attention economy decades ago, is well versed in the advantages of appearance-oriented and live video broadcasts in the 2C media path. It may co-brand with Internet celebrities or cultivate a more "next-door" personal IP. (Not only OTC merchants, encryption education studios and other companies in the Web3 field, but also the clinics and cram schools on the streets of Hong Kong often use the direct names of doctors and teachers as prefixes.)
As a cultural symbol of Hong Kong, Miss Hong Kong must talk about her views on AI this year.
Returning to the "unlicensed representative" JPEX's usage and growth strategy, Odaily Odaily found that cooperating with local OTC merchants to attract new customers, adding advertisements in densely populated areas, and asking celebrity influencers to recommend and increase credit are among the few "correct" strategies. choose".
And the problems exposed after the "incident" are of course far more than "improper publicity".
Chan Chun-ying, a member of the financial sector of the Hong Kong Legislative Council, said that the Securities and Futures Commission has been monitoring the problem of unlicensed operations, but the Securities and Futures Commission must collect evidence to prove that the platform has business operations before it can intervene. Since the platform is unlicensed, it is not under the supervision of the China Securities Regulatory Commission, and customers cannot receive compensation if it goes bankrupt. Therefore, the JPEX case can only be handed over to the police for investigation in the direction of fraud.
Learning from this experience, the SFC will alert investors online if it discovers that unlicensed trading platforms are selling advertisements in the future, and investors should also check the SFC's list of licensed trading platforms before making investments.
(Hong Kong's crypto-finance is still within the Kowloon Walled City. Sir, of course, you have to manage the territories outside the city. You have autonomy over small matters in the city, and you have to make notes before intervening in major matters. The thin line connecting the two sets of rules and maintaining balance is hidden in In the dust and smoke.)
On the 17th, JPEX issued an announcement: Due to third-party market makers restricting the platform's liquidity and in compliance with policy guidelines, the platform will delist all transactions on the financial management page. At that time, users will not be able to place any new financial management orders, and existing financial management orders in progress will be maintained until the end of the product in order to receive benefits. JPEX will recover liquidity from third-party market makers as soon as possible and gradually adjust currency withdrawal fees to normal levels.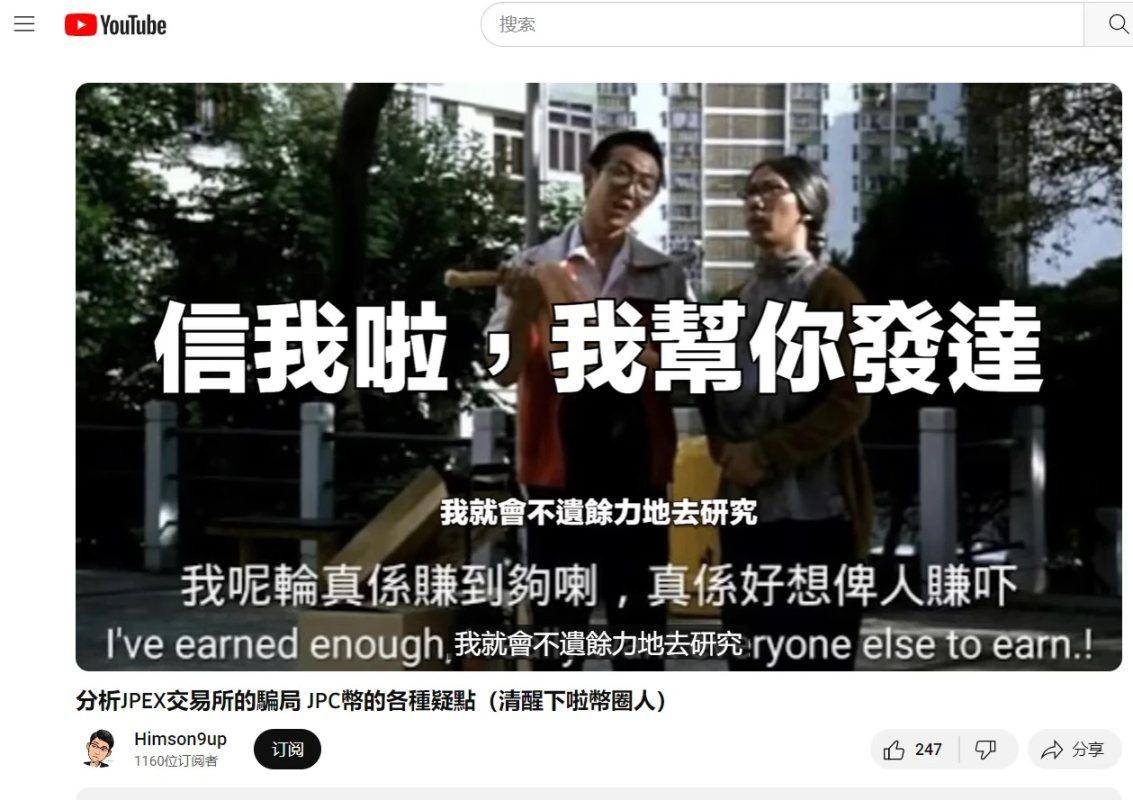 A crypto blogger on Youtube gave a lengthy analysis of the risk points of JPEX, mentioning marketing, platform currency, financial management sectors, etc. (Youtube is also the powerhouse of Web3 information in Traditional District)
According to the latest news on September 18, the Hong Kong police said that the number of people reporting JPEX has exceeded 1,000, and arrested another Internet celebrity Chen Yi (suspected of conspiracy to commit fraud). The police went to Chen Yi's "CYOTC" Chen Dayi cryptocurrency store in Wing On Plaza in East Tsim Sha Tsui to find Store search and arrest.
The second "Lin Zuo" was arrested, and the "first case" of illegal crypto trading in Hong Kong is still unfolding
Behind Victoria Harbor, the "Gatsbys" mingling with each other
Less than 900 meters from Lam's office is the Hong Kong Maritime Museum at Pier 8 in Central.
Since the "Hong Kong Web3 Carnival" in early April, this place has been often "requisitioned" by Web3 events of all sizes. Some charter boats from "High-End Private Bureaus" have also set off from this point, circling around Victoria Harbor in the night.
The "launching ceremony" of HashKey Exchange was held here, and the attendees in the front row stood upright in their clothes.
On August 28, HashKey Exchange, a Hong Kong Web3 compliance representative, officially opened the BTC/USD and ETH/USD trading pairs to retail investors.
Weng Xiaoqi, chief operating officer of HashKey Group, said at the event that HashKey Exchange is currently only open to users in 16 regions that meet regulatory requirements, and is cautious about user usage conditions. It will be based on the applicant's identity document, deposit and withdrawal bank card and IP The location will be reviewed.
HashKey Exchange has now launched a trial version of the web page and APP, and is expected to launch the official version in September. The specific schedule will be determined after communicating with partners and regulators. Regarding the issue of "only USD trading pairs are currently open", Weng Xiaoqi said that HKD against BTC and ETH trading pairs will be open within a week or two.
During the media interview, Weng Xiaoqi's words caught the attention of Odaily Odaily– "Initially, retail investors can purchase BTC and ETH, and investment in virtual assets will be restricted to no more than 30% of total assets." When asked, "How? Determine 30% of the total assets." HashKey said, "If retail investors invest more than 30% of the total assets in virtual assets on the platform, a risk warning will appear and the investment will be restricted. However, the platform cannot truly verify the user's total assets, only reliable Provided by users themselves."
Not talking about Hong Kong, for regulatory implementation in various countries, it is difficult to confirm the "cleanliness" of investment quotas, asset proportions, and funding sources. This is also the main reason why OTC merchants rarely have "license qualifications".
Hong Kong's licensing system for virtual asset trading platform operators is a "dual license" system. In addition to the licensing system applicable to "security tokens" under the Securities and Futures Ordinance, there is another licensing system applicable to "non-security tokens" under the Anti-Money Laundering Ordinance.
Currently, several virtual asset trading platforms, including OSL Exchange and HashKey Exchange, are applying for the second type of license, but no license has been approved yet. The Hong Kong Securities and Futures Commission has previously stated that the terms and characteristics of virtual assets may evolve over time, and the definition standards of "security tokens" and "non-security tokens" may also change. Therefore, in order to ensure compliance, virtual asset platforms should hold Dual license plates.
Under the current Hong Kong compliant encryption trading system, regular army representative HashKey has also made many efforts in addition to KYC. For example, 98% of the digital assets on the platform are stored in independent cold wallet systems; KPMG, PwC, Ernst & Young conducted external independent audits, group internal audits and code audits for HashKey Exchange respectively; cooperated with Chainalysis to ensure the security and compliance of the crypto assets themselves; cooperated with AON Insurance (Aon Insurance) to underwrite user assets, the first The initial insured amount is around US$500 million; it cooperates with a number of commercial banks to provide users with legal currency deposit and withdrawal services, and is the first to support US dollar transactions; it only accepts bank card transactions for the time being, and does not support credit cards; it actively communicates with regulatory agencies to promote stable coins Supervise and explore whether a certain degree of contract trading and pledge products can be approved; given that the Securities Regulatory Commission has not approved the provision of margins and derivatives at present, when regulatory approval is given in the future, related products will be graded and various products will be launched to different types of users... …
On August 31, Weng Xiaoqi said that it is expected that only 5-8 exchanges will eventually successfully obtain Hong Kong virtual asset exchange licenses, and 80% of those applying for licenses are expected to withdraw.
(You must feel the harshness, this is a completely different world from JPEX)
It is reported that in order to diversify the platform's retail channels, HashKey is currently negotiating with approximately five local brokerage firms in Hong Kong to establish terms related to its crypto trading services. "This may attract tens of millions of users who trade Hong Kong stocks on these platforms." Even if "Hong Kong drifters" from the mainland have not obtained Hong Kong permanent resident status, as long as they have obtained a Hong Kong resident identity card, they can provide the address of their permanent residence in Hong Kong. If you provide proof and Hong Kong bank account information, you are eligible to open an account on HashKey Exchange.
Weng Xiaoqi also said that HashKey has high hopes for its retail services: "We hope to increase the number of registered users to between 500,000 and 1 million by the end of this year. We also expect the market to be even more bullish next year. If this is indeed the case, our goal is Serve 10 million users by 2025."
So what is the recent performance of such a new platform in Hong Kong that is rising and gaining customers vigorously?
As of September 18, Coingecko data shows that HashKey Exchange's 24-hour trading volume was $481,381.
Want to enter the competition? First understand who is giving the order and blowing the whistle
The story ends at this point.
We found that the two types of encryption companies that attract new users in Hong Kong and welcome Web2 and traditional financial users to enter Web3 show clear stratification:
HashKey and OSL, which are closest to compliance, and trading platforms such as OKX and BitgetX, which are rushing to obtain licenses, are T0-level "regular troops" that adhere to strict customer contact disciplines and focus on institutional cooperation with huge amounts of funds; a large number of them use encryption education and OTC (Lin Zuomen) is the entry point of private companies and studios, "stragglers", and they are integrated with mothers and uncles, consolidating the bottom of the pyramid of Web3 in Hong Kong.
And the spire is suspended in the air.
Another obvious fact is that Hong Kong Web3 only has finance (trading platform + OTC), no technology development or non-financial applications, and it has never seen any L1, L2, DeFi, NFT, or DAO. Behind this appearance is the genetic expression of Hong Kong's century-old development.
In June this year, Odaily Odaily came into contact with a group of Chinese Web3 entrepreneurs in Vietnam. When asked "How do you view Hong Kong's favorable policies and whether you will participate in it?" Brother E (pseudonym) just smiled and said, "It's hard to believe the follow-up support (from the Hong Kong government). As a crypto that was "driven out" five years ago, Circle people, anywhere in Southeast Asia is a better place to live, what if one day you are not allowed to do it again? "
Big C (pseudonym), who has worked in the hardware and disk circles in Shenzhen, also lacks interest in Hong Kong: "The cost of doing anything is so high. For the same work, developers in India and Vietnam are so easy to use. (Southeast Asia) ) The cryptocurrency penetration rate here is high, retail investors yearn for wealth, and they communicate closely, so it is easy to develop a user base (for projects)."
This group of "loose" and "reckless" Chinese serial entrepreneurs are sharp in information, quick in thinking, and experienced. They never need the guidance of any "Moses" and rarely wear suits to attend meetings like the New Money people. They make their own decisions. After considering the pros and cons of all parties, we actively rush to the promised land flowing with milk and honey, just like the Great Mining Migration a few years ago. However, the "Canaan" in their eyes is not Hong Kong or Singapore.
Xiao Z (pseudonym), a student studying Hong Kong Chinese and having worked as an intern in Web3 and traditional Internet industries for many years, said: "I will most likely work on the Internet for a few years after graduation. Web3 is highly uncertain, and they are all in the ' crypto'." , getting rich doesn't necessarily depend on work."
Xiao Z also has his own opinions on the "landing posture" of Hong Kong Web3. "The people your media comes into contact with are all old crypto in Shanghai, Beijing, and Hangzhou. They can't speak Cantonese well, and there are traditional financial bosses in high positions. And low-level retail investors are beyond your reach."
On September 14, Buterin spoke in Singapore and said that although Hong Kong has shifted to a cryptocurrency-friendly stance since the end of last year, cryptocurrency projects should consider the stability of its friendly policies when setting up offices in Hong Kong. For me, the sustainability of Hong Kong's crypto-friendly policies is a key variable, and it is personally difficult for me to judge this issue. It is very challenging for local regulation to convince people that crypto-friendly policies are sustainable."
On the 15th, Hong Kong Legislative Council member Wu Jiezhuang responded on the Relevant institutions and enterprises share the situation in Hong Kong with them. Hong Kong is a special administrative region with complete procedures for formulating policies and laws. Under 'one country, two systems', Hong Kong has legislative power. As a member of the Legislative Council of the Hong Kong Special Administrative Region, I would like to share with you Share, every policy or legislation in Hong Kong will go through a period of discussion, including government policy writing, public consultation, discussions in multiple committees of the Legislative Council and the General Assembly, etc., so I hope Vitalik understands the actual situation. The country and Hong Kong do not have what Vitalik said The situation is complicated. The central government has always expressed support for the development of "one country, two systems" in Hong Kong, so Hong Kong has room to formulate policies on virtual assets and welcomes global compliance companies to develop in Hong Kong. "
Wu Jiezhuang finally said: "Hong Kong's policies and laws will not change overnight. All relevant strategies and regulations have gone through major social consensus and complete procedures. Therefore, I can tell Mr. Vitalik that Hong Kong's policies are very stable."
Zooming out, looking at this year's macro situation, on the one hand, mainland interest rates are falling, while U.S. bond yields continue to rise, and Hong Kong dollar-denominated financial products (which have been pegged to the U.S. dollar for 30 years) have high returns - water is flowing out; On the one hand, the Hong Kong government continues to optimize talent attraction policies, such as further relaxing the entry plan for talented and highly talented people, etc. - people are going south.
Some people say that chaos is not an abyss, but a ladder.
So, are you ready to climb up the ladder? Do you see the way forward clearly?