Back in March, I stated that the Arbitrum airdrop on March 23rd would be the final shot in Arbitrum's decline.
Arbitrum is a layer 2 protocol designed to help scale Ethereum. The "last shot" refers to the upcoming airdrop of the native token ARB.
Since then, ARB's price performance has been less than positive. While the entire market has been suffering this year, ARB has been particularly dismal. Last Monday, ARB's all-time low was around $0.74. Whales and market makers sell tokens at a loss. Some market makers recently sold 21 million ARB at a loss of $8.15 million. Last week, ARB's main competitor Optimism (OP) also surpassed ARB in market capitalization for the first time.
To be clear, I am not blaming ARB's decline on airdrops. When you launch a new coin in a bear market, you shouldn't expect it to magically rise.
Price isn't everything. The health of the entire network is equally important. But this airdrop does put pressure on the ecosystem, and Arbitrum will need to find ways to innovate and attract demand if it wants to survive when the bull market returns. And ARB is still struggling in this regard.
But I have some ideas. First, let's explain why Arbitrum may still be a Tier 2 king during this bull-bear cycle.
Is Arbitrum still a contender for the L2 crown?
Arbitrum has come a long way since its initial launch in August 2021.
For the first few months, it made almost no progress. Most DeFi projects coming from Ethereum choose to launch on Optimism rather than Arbitrum.
But over time, developers started turning to Arbitrum. While there may be several reasons, there is one we can easily point to.
You see, most protocols on Ethereum, including Optimism, require developers to use a code called Solidity to write smart contracts.
But Arbitrum is different in that it uses something called WebAssembly. WebAssembly is commonly used in web browsers and allows you to compile multiple programming languages ​​such as Rust, C++, etc.
Therefore, developers are not limited to using Solidity alone. They can use alternative programming languages ​​to deploy smart contracts, which may be one reason why they started flocking to Arbitrum.
As a result, Arbitrum's total value locked has grown from $0 at launch in August 2021 to $2.5 billion in November 2021. It's amazing to see such rapid growth in just 3 months.
Currently, Arbitrum has a total value locked at $1.7 billion. That compares to $650 million for Optimism.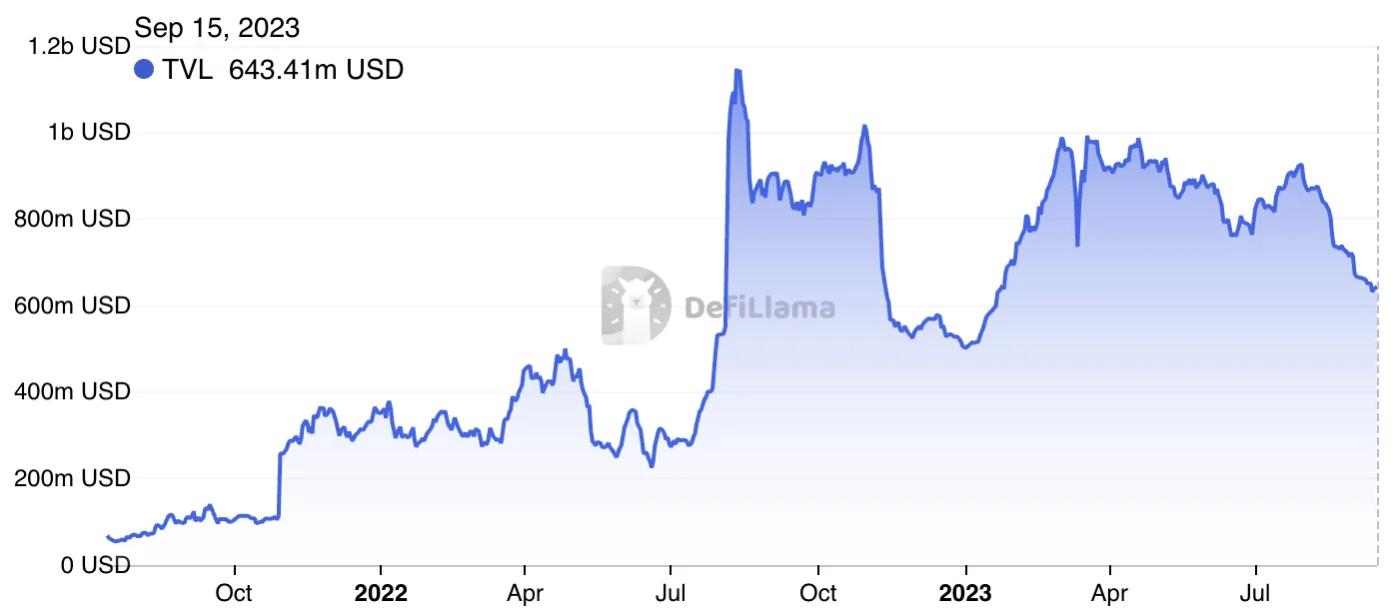 But the important thing to keep in mind is not the TVL that Arbitrum is targeting, but its diversity. Diversity in TVL is important for the health of the ecosystem so that it is not dependent on individual projects whose collapse could threaten the entire project.
Arbitrum has 27 projects with TVL exceeding $10 million. Although it is somewhat concentrated on the decentralized perpetual exchange GMX, which accounts for 25% of the total TVL, it is still a very diverse ecosystem.
Additionally, across all these protocols, there are approximately $1.5 billion in stablecoins on Arbitrum. That's significantly more than Optimism's $500 million and comparable to the amount held by Solana, one of the most popular layer 1 projects for stablecoin payments.
Moreover, the number of users of Arbitrum is slightly higher than that of Optimism. Arbitrum has just over 107,000 users, while Optimism has about 85,000.
So, with so much activity even in a bear market, what else can Arbitrum do to make itself a force to be reckoned with in the next cycle?
It's all about adoption
To explain the next part, we need to look at the functionality of ETH itself.
ETH has many use cases. You can use it to pay for creating smart contracts or pay transaction fees. You can also use it as collateral for borrowing or earning staking rewards, etc.
These use cases not only make the token more versatile for holders. They also make the token more "elastic."
Therefore, ETH is highly resilient because its use cases are more than just a way to send payments. This includes creating smart contracts and paying for computation, as well as higher-level uses as a store of value, collateral, or yield instrument.
Now, what can you do with ARB tokens?
...Think of anything?
This is where the problem lies. You don't even need ARB to pay for transactions in the network.
Tokens require some level of usage, even basic ones. Once it has that, it can start to unlock higher levels of usage similar to what we see with ETH.
The benefit of this is that it makes TVL very sticky. All liquidity then acts as a reservoir to absorb changes in supply. Currently, the ARB has no role in this area. If there is a large unlock coming, or a protocol on the network wants to sell the tokens it received from the airdrop, the ecosystem will not be able to absorb it.
The point is that I would like to see more use for the ARB tokens outside of sales. Currently, if I had to give ARB's economic model a grade, it would get an F.
Fortunately, Arbitrum can improve this.
Remember, Arbitrum is a Rollup. It computes transactions outside of the main Ethereum chain, and once verified, it packages those transactions together and sends them back to the mainnet. This is faster and cheaper than verifying every transaction on Ethereum.
To do this, the chain uses ordering nodes to order transactions and send them back to the mainnet after verification.
The good news is that plans are afoot to decentralize this process by requiring orderers to stake ARB tokens. These ordering nodes can earn fees from validating transactions and helping the network run, similar to PoS networks. This provides a potential use case for ARB.
Looking to the future
If ARB wants to remain competitive, it needs to start thinking about how to align incentives with its tokens.
The chart below shows that there are over 1 million (approximately $1.6 billion) of ETH locked on Arbitrum. Despite the recent decline, it is still higher than at any time in 2022.
This shows Arbitrum's potential to play a key role in the Ethereum ecosystem. But the price chart can only do that if the team devises better uses for the token, which will go a long way toward making it an attractive asset once people start moving down the risk curve from Ethereum.